The Project
The Project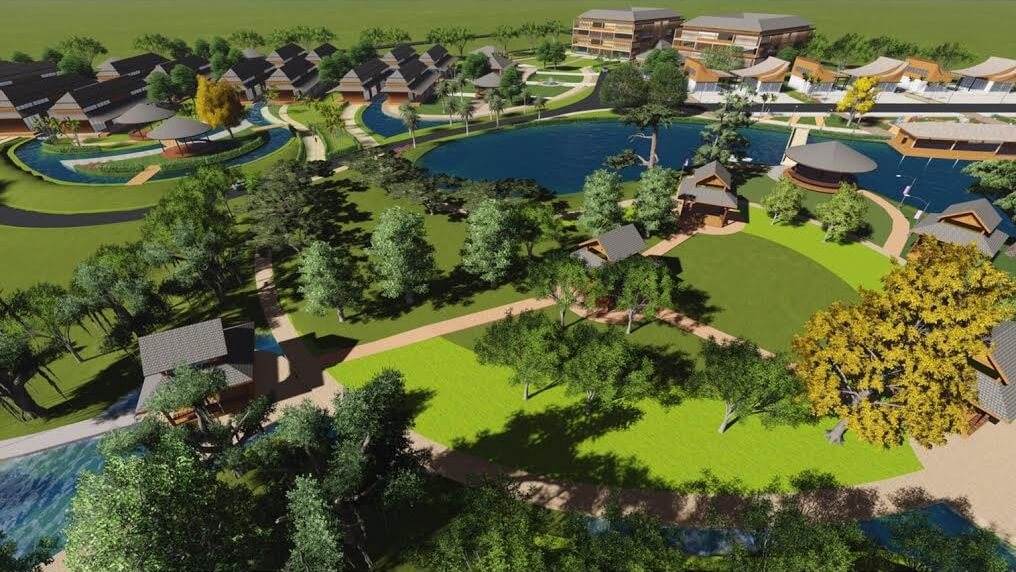 "Different from most retirement homes in Western countries the "DIFFERENCE RESIDENCE" offers living in a village-style environment, within a landscaped park with many trees, ponds, waterfall, seating areas and more.
Infrastructure
What the "DIFFERENCE RESIDENCE" distinguishes from other similar projects is:
Environmental friendly surroundings, a huge part of the total-surface is a landscaped park with lawns, trees, bushes, small flower hills, etc., every villa has a small artificial pond in front of the living area; terrace houses are built along a small stream fit for swimming. The apartment buildings and the houses are well integrated into nature.
About 25,000 sqm of the total area consisting of 140,800 square meters are designed as a "Forest Garden" with plenty of big trees and a huge lagoon with waterfall and seating areas and a pond with a fishing terrace. Furthermore, a "Forest Hill" with a height of approximately 25 meters and a size of 25,600 square meters will be available for our residents with walkways and a roofed terrace on top of the hill providing a panoramic view of the surrounding area and the ocean.
There will be no traffic within the residence, apartments, and houses can be reached using walkway or battery-driven golf carts and only owners will have access.
There are no walls inside the residence, the demarcation to the neighbor takes place by means of shrubs, trees, and small flower-hills. The residence itself is protected by a 1,80 m high wall around the entire land.
Round the clock security (security cameras and guards) at the three gates and within the entire residence.
All utility lines in the residence for water, electricity, telephone, internet, wastewater, etc. are placed underground.
Closed-circuit wastewater treatment plant.
On the land are four water-wells; two of them to be used for gardening purposes, and feeding ponds, lagoon and artificial waterfalls whereas the two others are providing water for apartments and houses. The borehole water is stored in underground tanks and ponds, totaling 1 million liters.
The residence has as well city water provided by the local Government.
Solar Power will be used where ever possible.
All buildings such as Apartments, Terrace Houses, Villas, Siam Square, Rehab-Center as well as restaurants are equipt with an Air-cooled Chiller System.
Buildings and houses offer quality, individuality, and are of a high standard, built under German construction-supervision. Any wood which will be used is purchased from plantations and not taken from intact tropical forests.
Facilities
Beautiful designed "Forest Garden" with ponds and artificial waterfall and communal seating areas.
Three 3-story apartment buildings with reception desk, huge in-door garden on Ground Floor with lobby desk, cafe, artificial pond, seating area, 3 elevators, and roof garden.
Freestanding 3-story buildings with elevator; a combination of terrace houses and apartments and roof garden.
Freestanding villas with their own garden and pond in front of the entrance.
Administration Building with a reception (24 hours service) and parking area (cars and motorbikes).
Separate parking area for cars and motorbikes with roof for sun protection.
State of the art Rehabilitation Center with integrated pharmacy, inpatient facilities and emergency room, Residence based ambulance car and helicopter base.
Siam Square, a 3-story building near the entrance of the residence compound with:
Restaurant serving Thai and International food,
Cafe Bar and Pub with pool tables,
VIP Area with comfortable dining in the air-conditioned restaurant or open-air terrace, and DIFFERENCE Quiet Lounge and "Wine Cellar",
Minimart with 24-hour service,
Library with plenty of books in different languages, international newspapers, and comfortable reading area and Internet facilities,
Massage with Spa, Sauna, Hair and Nail Salon, Gym, Arts and Craft Room.
Tour Desk.
2 huge saltwater swimming-pools with deck chairs, pool bar, and Jacuzzi.
2 swimming-pools with deck chairs.
Jogging Pad and Garden Gym.
Minimart near to Apartment A, B, and C.
Barbecue Area.
Beer Garden.
Art Cafe with indoor and outdoor seating.
Hilltop Cafe.
Asia Food Corner with six different cuisines; Chinese, Korean, Indonesian, Japanese, Thai, Vietnamese.
Thai Sunday-Market.
Bocce Lane.
Outdoor Chess.
Difference Lagoon.
Fishing Terrace at the pond in the Forest Garden.
Forest Hill Terrace with a panoramic view of the ocean and surrounding area.
Biodynamic Vegetable Garden (Demeter). Our residents are invited to do some garden work and maintain their own vegetable patch.
The entire residence is built according to the German TÜV Standard and suitable for residents with reduced mobility!