Terrace Houses
The Terrace Houses are 3-story buildings with 90 square meter apartments on the ground floor. Each apartment has a nice, 36 sqm, private garden in front of the terrace with direct access to the small stream and is separated from the neighbor by a 2 meter high bush fence. On the first and second floor of the building are 42 square meter apartments accessible by elevator. Terrace Houses are in groups of 20 and divided from their counterparts by a green zone of 4 meters on each side to guarantee privacy plus a 2-meter artificial stream fit for swimming. For safety reasons, this stream is only 1.25 meters deep however the total length is 1,000 meter.
Every Terrace House is beautifully furnished and bright and well-lit and has individual controlled air-conditioning. Each and every house is well integrated into the natural surroundings. On top of all Terrace Houses is a roof garden consisting of various plants and bio-dynamic vegetables and our residents are invited to do some garden work and maintain their own vegetable patch.
All Terrace Houses are suitable for residents with reduced mobility and are equipped with emergency buttons in the living area, balcony, and bathroom and beside the bed. A sprinkler system is in every room. Non-slip tiles and safety-rails are in all bathrooms.
Terrace Houses
Ground Floor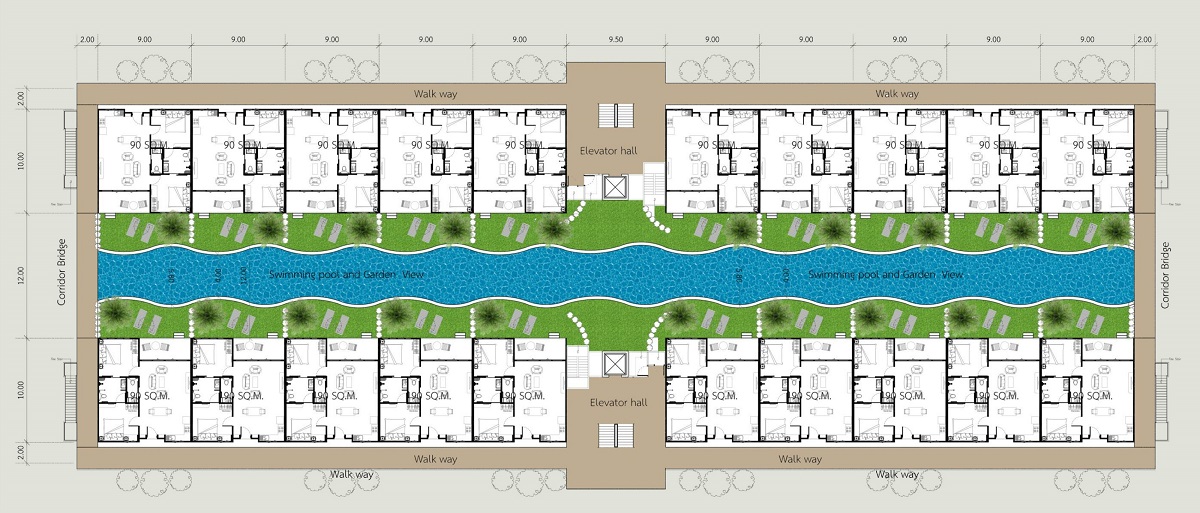 The Terrace House Apartment consist of a 90 square meters living area thus providing a spacious living room, 2 bedrooms with shared bathroom with a shower cubicle and a separate guest toilet There is an inbuilt European style kitchen, terrace with deck chairs and a table facing a small artificial stream. All are fully furnished including beds, cabinets, sofa, TV, telephone, Wi-Fi, tables and chairs.